Wallpapers are becoming more popular and trendy, and one can use them to make a room look bigger, brighter, and warmer and can even be used to hide imperfections. Therefore, it is essential to identify wallpapers that bring out the best by considering colors, patterns, style, and textures. However, choosing what would work best for you can feel quite scary, so knowing what you need to look out for will aid in that process.
Some pointers that one can use to transform a room into a dramatic retreat are:
· Wallpaper Styles
There are various types of wallpaper styles one can choose. Your décor style will determine your wallpaper style, such that it merges with space around. Some of these styles include:
Formal- These wallpaper designs include damask or hand-painted prints. Casual- These patterns come in various prints such as floral, textured, or plant prints. Glam- glam wallpaper includes flocked, embossed, glitter embedded, and crystal designs. Country- For country décor, gingham, plaid, and country motif are beautiful patterns to use. Victorian- A good wallpaper design would be the decorative floral damask. Rustic- Textured wallpapers such as plaid, wildlife, or grasscloth would work well depending on your theme. Modern- For a modern décor, abstract or geometric patterns would be the best choice.
· Wallpaper Colors
Color affects a room's mood, and it should match flooring, furniture, and window treatments. Colors such as green, violet, or blue make space seem more extensive, and the ceiling appears higher. Warm colors such as orange are lovely for colder weather and bring warmth to a room. Soft colors suggest serenity, and intense colors are dramatic. The more the intensity of the color, the more excitement it brings out in a room.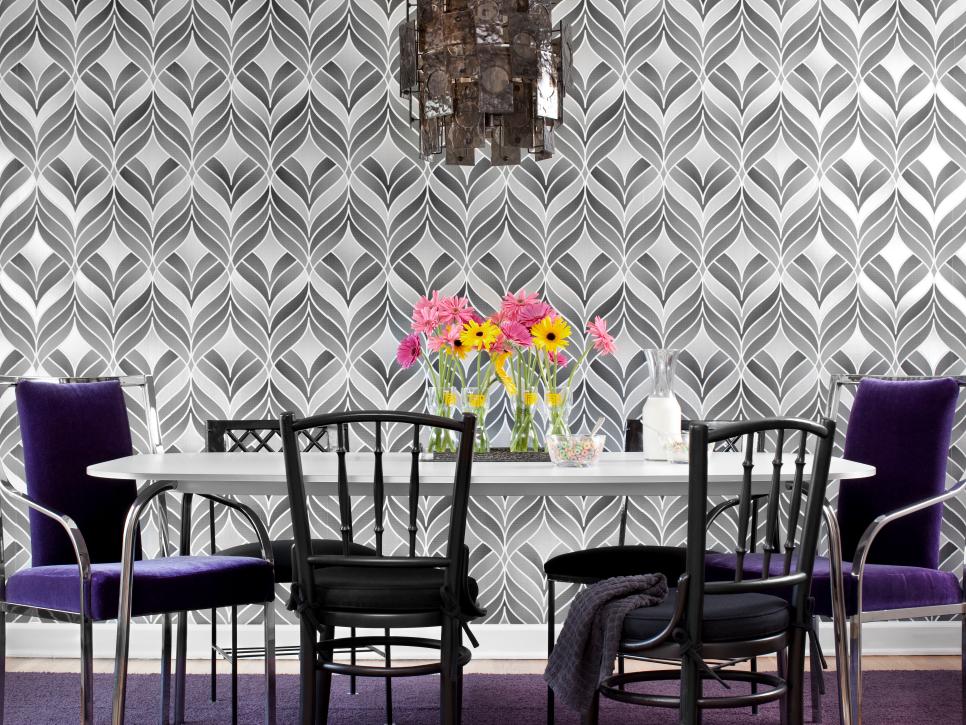 · Plain or Patterned Wallpapers
Whether the room's décor is patterned or plain, the key is to select the wallpapers of the right pattern size and color. If your draperies are patterned, then a tone-on-tone textured wallpaper would be suitable. Plain wallpaper works well if there is a heavily patterned décor.
Large dark prints would visually minimize a large room. On the other hand, small prints can make a small space look large or a vast room seem larger.
Horizontal stripes make any wall seem longer while to bring out the impression of height; vertical lines are the best.
· Textured Wallpaper for Design Depth
Textured patterns are about personality, and they give a casual feel to a room. Flat designs can make any wall more sophisticated by providing dimension and covering up imperfections. For flat wallpapers, additions such as gloss, mica, or Metallica effects bring out subtle details.
· Where you want to Use the Wallpaper
There are many options to transform a room with style and depth. One can do this by putting the wallpaper on an accent wall, above wainscoting, or even a chair rail. You can also decide to apply it on every wall of every room.
· Amount of wallpaper you need.
Measure the total square footage you require and deducting the openings such as windows and doors. Ensure that you pick a wallpaper that is extra square footage from the measurements you had.
Otherwise, with this simple guide, it should be easier to decide on the wallpaper you want and make it an exciting experience.